Quality Aggregate Products For Your Home or Business
We proudly service Pasco, Pinellas, Hernando & Hillsborough Counties including, but not limited to, the following cities: Keystone, Stillwater, Canterbury, Trinity, Cheval, Farmington, Durango, New Port Richey East, Turtle Creek, Garden Grove.
PAW Materials recycling
concrete and creating construction aggregates and materials!
Aggregate Product Specialists Offering The Following Materials
Organic Fill
Potting Soil
Fill Dirt
Stone Products
Dirt Mulch
57 Rock
Pipe Bedding
Rip Rap
Truck Bedding Stone
Clay
Mixed materials and more
OUR NEWEST RECYCLING CENTER IN LAND O'LAKES FL!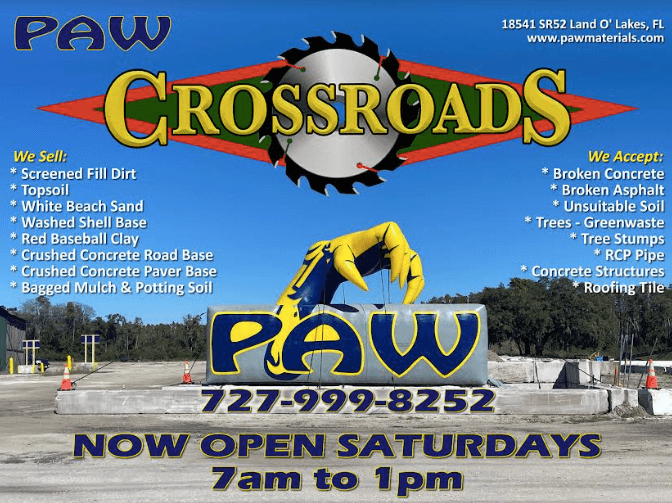 WE OPERATE TWO STATE-OF-THE-ART RECYCLING FACILITIES
We accept the following materials:
Concrete, bricks, pavers
CMU block (Concrete Masonry Unit)
Oversized concrete structures, barrier walls, vaults, drains
Asphalt, asphalt grindings
Roofing tile, floor and wall tile
Granite countertops, porcelain sinks and toilets
Trees, stumps, brush, land clearing debris
Sod, scrapings, yard trimmings, wood chips
Topsoils, sand, clay, compost, mulch
Rocks and boulders
Steel, rebar and miscellaneous metals
DROPPING OFF YOURSELF…FREE DUMPING
…for clean loads of concrete materials, bricks and pavers, roofing tile, granite countertops, floor and wall tile, asphalt, soil and sand.
* no trash of any kind accepted in loads
On top of providing organic topsoil, fill dirt, compost and potting soil products, PAW Materials proudly provides dumpster rentals in Wesley Chapel, New Port Richey and the surrounding areas including Odessa, Land O'Lakes, Lutz, Trinity, Holiday, Port Richey, Holiday, Hudson, Spring Hill, Tarpon Springs, Dunedin, Palm Harbor, Clearwater as well as the Greater Tampa Bay Region and all of Central Florida.

If you need a residential dumpster rental or a have a commercial roll off container rental need, give PAW Materials your first call and find out what outstanding service and support is all about!
PAW serves Commercial Contractors
Dumpster Rental Services in Pasco County FL
Our Roll Off Service Provides Peace of Mind
Roll Off Containers & Materials Delivery
Fast and reliable service
20-yard, 30-yard, 43-yard roll off dumpsters available
Low-sided easy-to-load boxes for concrete & asphalt
Materials can be delivered when box is dropped
We proudly offer dumpster rental services in Tampa Bay and St. Petersburg serving both residential and commercial customers in and around the Greater Tampa Bay Region. Whether you are looking for a dumpster rental for a project at your home or have a commercial project requiring a roll off container rental in Tampa Bay, St. Petersburg, or other areas, PAW Materials is your first choice for outstanding customer service, responsiveness, professionalism and overall affordability.
Brownfield Remediation Services in Odessa FL
According to the EPA's definition of a brownfield…
"A brownfield is a property, the expansion, redevelopment, or reuse of which may be complicated by the presence or potential presence of a hazardous substance, pollutant, or contaminant. It is estimated that there are more than 450,000 brownfields in the U.S. "
PAW Materials is proud to invest into the cleaning and reinvesting of these brownfield areas around the Gulf Coast region of Florida.  It will help to increase land values, increase tax bases, help with growing local jobs in the region, using existing infrastructure instead of building new and helping to preserve and protect our environment. 
We are in the business of assisting in property remediation. We bring years of material knowledge in material handling and sorting which can be done at your site. We have the resources and industry knowledge to dig, sort, and process buried debris into recyclable products and limit the exposure of expensive landfills.
Offering a full suite of professional services through our five divisions to serve YOUR needs:
​PAW Demolition, PAW Materials, PAW Trucking, PAW Recycling and Fleet-Tech truck repair
Portable Rock Crushing Services in Odessa FL
PAW Materials has portable rock crushers which can be brought to your job site location and have the ability to crush and/or sort materials into usable products for new construction.  If you have any needs of this kind, reach out to us and we would be happy to provide you with a detailed proposal.  PAW has you covered!
FREQUENTLY ASKED QUESTIONS